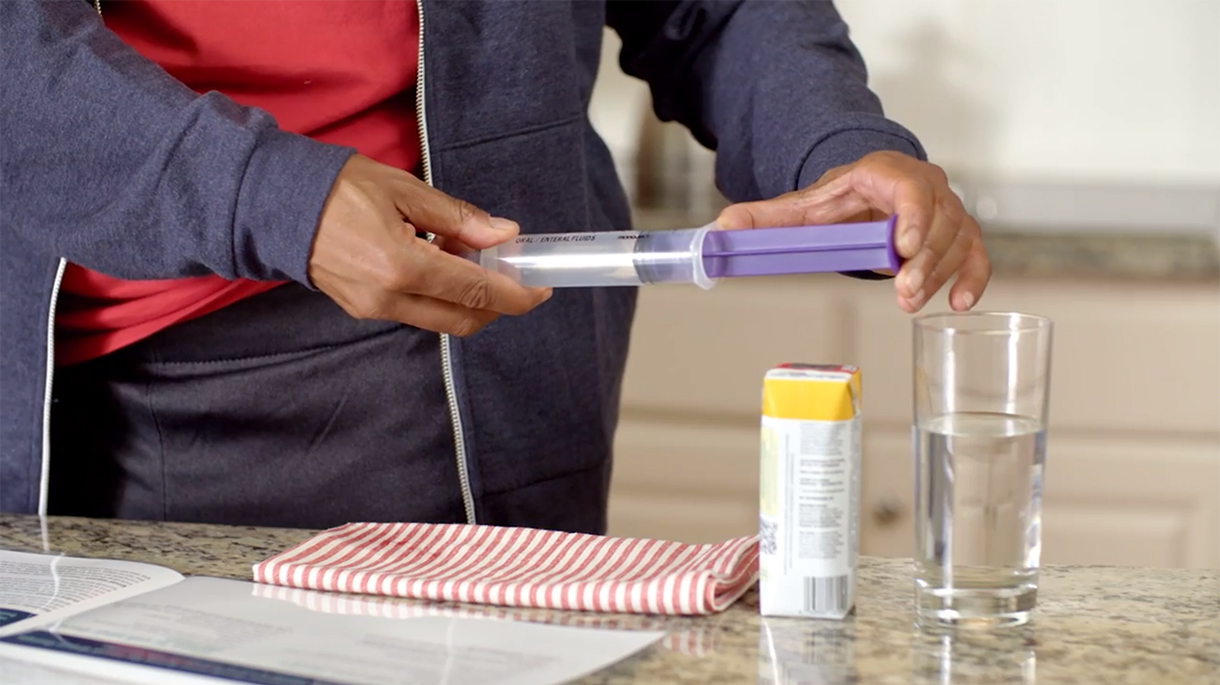 Learning to give formula and medications through your own or your loved one's feeding tube can be scary. At Coram® CVS Specialty® Infusion Services (Coram), we're here to make your tube feeding experience at home a little easier. We'll walk beside you until you feel confident with caring for your feeding tube. Read over these tips and take comfort in knowing that a Coram dietitian is here for you.  

Clean hands

Always wash your hands with soap and water before and after your feeding. For detailed hand-washing steps, read page 41 of the Tube Feeding Patient Resource Guide.
Flushing 

If you're unsure how much to flush (rinse) your tube each day, check with your doctor or dietitian. In general, flush your tube with water before and after:
Each feeding
Placing medication down the tube
 
Flushing as instructed keeps your tube clean on the inside and helps prevent clogs. This helps you get the hydration you need.
Proper positioning 

If you tube feed while in bed, raise the head of the bed 30 to 45 degrees:
During feeds; and
30 minutes before and after feeds
 
If this is different than what your doctor told you, follow your doctor's instructions. Sitting straight up in a chair works great, too. This helps keep liquids in your stomach from going back up your throat and into your lungs. 
Giving medications

Follow these steps to give medications through your feeding tube. 
Prepare the tablet, capsule or liquid as instructed. Here are some tips:

Tablet: Crush tablets into a fine powder and dissolve it in a small amount of water.
Capsule: If your doctor or pharmacist has told you it's okay, open the capsule and dissolve the powder with lukewarm water as directed to make a liquid.
Liquid: You may add a small amount of water to your liquid medication to make it easier to administer through your tube.

Give each medication separately. 
Do not add medication directly to your tube feeding formula.
Before giving a medication, stop the tube feeding and flush the tube with at least 15 mL of water.
After giving the medication, flush your tube with at least 15 mL of water. 
Repeat the above steps with each medication. Always rinse your syringe before giving a new medication.
Restart your tube feeding after all of your medications have been given.
 
Cleaning your skin
 
After initial tube placement when your doctor has told you to do so, carefully remove any dressing (gauze and tape) from around the tube.
Clean your tube site daily. Gently clean skin around the tube site using:

Gauze or a clean, soft cloth; and
Soap and water 
 
You can also clean your tube site in the shower. Don't use ointments around the tube site unless directed by your doctor.
 
Storing formula safely
 
Store your supplies and formula in a cool, dry place like a pantry or basement.
Check the expiration date on the formula before using.
Don't mix new formula with a used one.
Cover unused formula and store in the refrigerator. Discard after 24 hours.
Put no more than four hours-worth of mixed formula or breast milk in a feeding bag at one time.
Put no more than 12 hours-worth of ready-to-feed formula in a feeding bag at one time.

Talking to your Coram dietitian

Reach out if:
You notice redness, pain, swelling or any unusual drainage around your tube site.
Your tube is clogged or doesn't fit well.
The formula has an unusual smell, color or appearance.
You need a refill—call seven to 10 business days before you need your next delivery.
 
You may have different needs at different times. Your Coram dietitian is here to answer your questions and ease your concerns. Call 1-877-936-6874 any time, day or night.
Disclaimers
This information is not a substitute for medical advice or treatment. Talk to your doctor or health care provider about your medical condition and prior to starting any new treatment. Coram assumes no liability whatsoever for the information provided or for any diagnosis or treatment made as a result.
Your privacy is important to us. Our employees are trained regarding the appropriate way to handle your private health information.